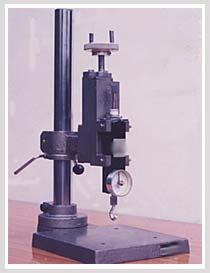 Push-pull Meter with Stand
PUSH - PULL METER is a handy Force Measuring Device available in different ranges for the measurement of push or pull force. Pushing and pulling forces are indicated by the meter on a dial of 50mm diameter having scales ranging from 0 - 300 gms to 0 - 50 Kg for different models to suit the wide range of applications. It has an additional facility of zero adjustment and the optimum reading can be locked by means of a retaining pointer on the scale. The device is useful in textile industries to measure or compare the stretch of the yarn sheet or tensile strength of the yarn fibre. In pharmaceutical industries it can be used as instant tablet hardness tester. It also has wide applications as spring tester, wire harness joints tester, electronic keyboard and switch operatign force tester, and tension meter for winding and drawing applications, and to find out the piercing and bursting strength of packing materials. Special handle attachment can also be provided as shown in the picture
Push Pull Meters are also available with specially Designed Stand with Slide and Holder.